Expecting a child is one of the most anticipated things in the lives of many couples. From the moment they learn they are going to be parents, many moms and dads-to-be pray that their bundle of joy be born healthy.
Olesia, a young woman from Russia, and her husband Eugen were overjoyed when they learned their family would become bigger.
Everything seemed fine with the pregnancy until one day doctors shared with Olesia some devastating news. The ultrasound showed that the baby girl would have malformations. According to the doctors, the little one's hands wouldn't develop and all of her internal organs were enlarged.
The family was advised to terminate the pregnancy. Olesia recalled that the doctor's words were: "Do you understand that this is a cross that you will have to carry all your life? An invalid child! You will be pointed the finger! You will only work for medicine and you will pray that she will die sooner!"
After thinking about it carefully, the expecting parents made a decision to keep their daughter. When they informed the doctors about it, they said: "That's your job. Write a statement stating that you know the results of the ultrasound so that there are no complaints in the future."
In the period that followed, the family's worries over their unborn child grew bigger and bigger. They, however, never regretted the decision to proceed with the pregnancy.
It was during a cold December night that Olesia's water broke. Eugen rushed her to the hospital and waited outside while she was giving birth to their daughter.
Some three hours later, baby Nadejda was born. Doctors placed her on Olesia's chest and told her that she gave birth to a healthy baby girl. This mother couldn't believe what she was hearing. Then, some of the hospital staff went outside to tell Eugen the good news. "Sir, sir, you have a little girl! Congratulations! And she is absolutely healthy!" The word 'healthy' echoed in this father's ears. "Could this be true," he kept asking himself.
When they realized their baby girl was indeed healthy and didn't lack any parts of her body, the parents were both happy and confused.
It was then that doctors informed them how they misread the ultrasounds because Olesia had a large uterine fibroid, noncancerous growths of the uterus that often appear during childbearing years, also known as myomas. What they saw as malformations were in fact those growths.
Olesia was operated. Unfortunately, her female organs needed to be removed, but at least she gave birth to a beautiful and healthy baby girl. You can take a look at a photo of her below.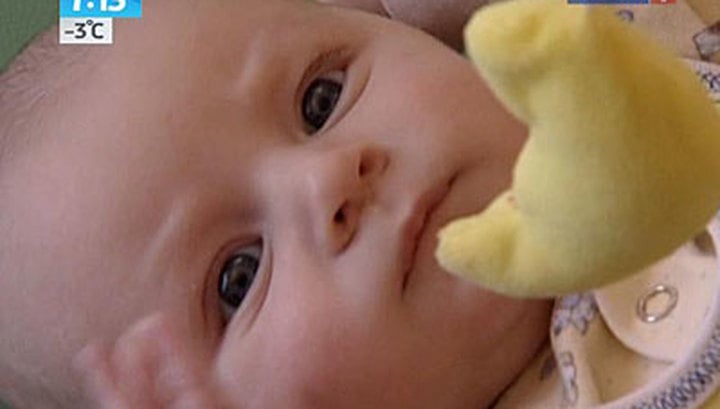 These parents made the right decision when they decided to keep their baby.
Please SHARE this story with your family and friends on Facebook!